« Content IS King | Main | AMY WILL YOU MARRY JOSH? »
May 1, 2007
Dental Hygiene in the New Millenium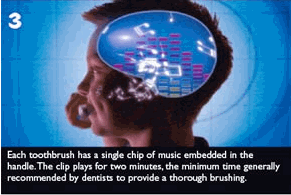 In addition to dozens of plastic, candy-filled eggs scattered about my in-laws house for our kids, the "Easter Bunny" also brought three new "Toothtunes" toothbrushes to our house - one for each of our three kids.
I was a bit disappointed that rabbit didn't bring FOUR of these - that is, a Toothtunes for me too, especially since I recall having sent in the actual suggestion to the "Easter Bunny" just a few weeks before Easter. Much thanks to my mother-in-law, however, who noted the oversight by way of my massive disappointment and who then brought me a Toothtunes of my own last week.
What cool technology - you literally hear the songs "in your head" - through vibrations that travel from your teeth, through your jaw bone and up into your inner ear. It is just fun - you turn on the tooth brush and without placing in your mouth, you can hear a faint buzz, like an ear bud laying on your desk blasting AM radio - you know, you can kind of hear something, but not really make it out.
Place the toothbrush in your mouth, and there it is - music! Depending upon where it is on your teeth, you can find positions that are more optimal for transferring vibrations through your head. I've found that biting down on it can bring a fairly full sound. Cool.
One down side I've found is that it seems to discourage lots of movement around your mouth. As you brush normally all around your teeth, the vibration transfer varies and the effect is the song fades in and out, stronger and weaker. I find myself "resting" in spots, to hear the song. I can't decide if this will ultimately encourage more brushing "events" for my kids, but lower quality brushing during each event.
I've heard of the concept before, but this is the first product application I've seen actually implementing the idea. According to this quick post at Wired Labs - the concept is an old one for hearing aids and is now showing up in phone headsets. In the photo at this headset site it is easy to miss at first that the "ear piece" is not over his ear, but resting against the bone in front of it. Finally, Wired also notes that the technology is likely to show up in a tidal wave of kids toys. At least one so far.
So, fortunately for me and my kids, the "Easter Bunny" is a practical bunny, and an advocate of responsible parenting.
By the way, my Toothtunes plays "I Wanna Rock and Roll All Night" by KISS. That is cool too.
Needless to say, my kids have enjoyed these - bu maybe not quite as much as I have.
Posted by gcrgcr at May 1, 2007 10:49 PM
Comments
Post a comment
Thanks for signing in, . Now you can comment. (sign out)
(If you haven't left a comment here before, you may need to be approved by the site owner before your comment will appear. Until then, it won't appear on the entry. Thanks for waiting.)