« April 2007 | Main | June 2007 »
May 15, 2007
One Cut? Well Done!
Kind of a lazy re-blog effort here - I can't even remember who's blog I saw this on, but I think they said something like "Love this Video!"
It is pretty cool. What I was thinking as I watched it though is that I feel old. These are kids working in this office! Am I old? Yikes! :)
Looks like a fun place to work. I guess they make videos and other funny stuff. They say:
We are a company called Connected Ventures, a group of friends who work for: Vimeo, CollegeHumor, Busted Tees, and Defunker.
Nicely done. Fun to watch and this song goes in my running mix on Ipod.
Lip Dub - Flagpole Sitta by Harvey Danger from amandalynferri on Vimeo
Posted by gcrgcr at 12:01 AM | Comments (0)
May 10, 2007
Book Cover Art
A friend sent me a link to the web site for the book The Art of the Start by Guy Kawasaki the other day.
As I checked it out I saw that he ran what looks like a very successful cover design contest. His offer garnered 150 entries from around 70 people. What is really fun is checking them all out at his website.
Thinking of the possibilities for "the art of the start" - it is intriguing to look at all the different ideas and concepts the participants contributed. Many innovative ideas. It sure must have been hard to pick a winner. I do really like the design that won.
I've done my share of dabbling in graphic design over the years. Two things I've wanted to put on my amateur resume as a designer are a wine and/or beer label (I'll count that as one item) and a book cover.
I nearly got my chance at a book cover just this year - for my own father, which would have been extra cool. My dad has recently completed a book, his first, soon to be published by Xulon Press. It is titled "His Grace Is Enough".
Initially we thought is was a provide your own cover art situation - only later after we came up with my version, did we learn, they in fact provided art for the cover.
Here are the two versions: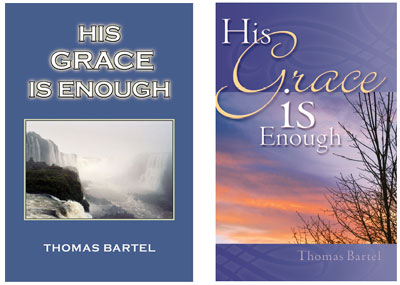 Can you guess which is which? :) Now, I do really think they made the right choice. Notes on my version - I only had 48 hours end-to-end to get something churned out (we thought we had a deadline). We also incorporated a photo on the front of sentimental value to my Dad - Iguaca Falls in Paraguay, where he participated in a mission a few years ago. Their version is much more polished and professional, and more importantly probably more marketable. It doesn't incorporate the sentimental photo, but it does fit with their line of books they publish, so should fit in nicely on shelves at the book store.
I'm extremely proud of my Dad for his efforts. In one sense it seems like publishing a book is easier in today's day and age - but writing one that is publishable still remains a challenge that requires much skill and effort.
I've mentioned before my Dad has a Masters in Theology and I'm also very proud of his volunteerism - and of his book. I can't wait until it is out and I'll be posting on it immediately when it is.
So, I missed my first shot at a cover - but that's really a very minor deal. It was a fun, quick turn project, and good practice if nothing else. I'm sure another will come along someday. Maybe I'll write a book of my own to create the opportunity!

Posted by gcrgcr at 8:55 PM | Comments (0)
May 8, 2007
AMY WILL YOU MARRY JOSH?
Sometime blog opportunities just fall into your lap out of no where...
My friend Josh Baer pinged me with his good news earlier today - on May 4th he proposed to his girlfriend Amy.
Now, I'm not a mushy, mushy guy, but having checked out the engagement, captured on video, I have to say, this was pretty heart warming to watch.

After Amy saw the words, "AMY WILL YOU MARRY ME?" on the Paramount Marquee, Josh got down on one knee and presented the ring with the following words, "11 months ago today we met here at the Paramount, and every day since then you have been my best friend and the love of my life. And with this ring I ask you, Amy Susanne Vail, to be my wife."

Not only is it fun to see what Josh pulled together to make his proposal memorable and unique (check out the marquee on the theater) - it is so cool that it can be easily captured on video and shared with today's technology.
I wonder how much bandwidth Josh gets with his host... we'll see if he cries uncle and moves this to YouTube ever...
Congratulations Josh and Amy!
Posted by gcrgcr at 10:12 AM | Comments (0)
May 1, 2007
Dental Hygiene in the New Millenium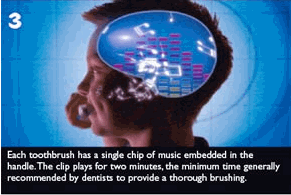 In addition to dozens of plastic, candy-filled eggs scattered about my in-laws house for our kids, the "Easter Bunny" also brought three new "Toothtunes" toothbrushes to our house - one for each of our three kids.
I was a bit disappointed that rabbit didn't bring FOUR of these - that is, a Toothtunes for me too, especially since I recall having sent in the actual suggestion to the "Easter Bunny" just a few weeks before Easter. Much thanks to my mother-in-law, however, who noted the oversight by way of my massive disappointment and who then brought me a Toothtunes of my own last week.
What cool technology - you literally hear the songs "in your head" - through vibrations that travel from your teeth, through your jaw bone and up into your inner ear. It is just fun - you turn on the tooth brush and without placing in your mouth, you can hear a faint buzz, like an ear bud laying on your desk blasting AM radio - you know, you can kind of hear something, but not really make it out.
Place the toothbrush in your mouth, and there it is - music! Depending upon where it is on your teeth, you can find positions that are more optimal for transferring vibrations through your head. I've found that biting down on it can bring a fairly full sound. Cool.
One down side I've found is that it seems to discourage lots of movement around your mouth. As you brush normally all around your teeth, the vibration transfer varies and the effect is the song fades in and out, stronger and weaker. I find myself "resting" in spots, to hear the song. I can't decide if this will ultimately encourage more brushing "events" for my kids, but lower quality brushing during each event.
I've heard of the concept before, but this is the first product application I've seen actually implementing the idea. According to this quick post at Wired Labs - the concept is an old one for hearing aids and is now showing up in phone headsets. In the photo at this headset site it is easy to miss at first that the "ear piece" is not over his ear, but resting against the bone in front of it. Finally, Wired also notes that the technology is likely to show up in a tidal wave of kids toys. At least one so far.
So, fortunately for me and my kids, the "Easter Bunny" is a practical bunny, and an advocate of responsible parenting.
By the way, my Toothtunes plays "I Wanna Rock and Roll All Night" by KISS. That is cool too.
Needless to say, my kids have enjoyed these - bu maybe not quite as much as I have.
Posted by gcrgcr at 10:49 PM | Comments (0)