« Blurnalism - Is Blogging Journalism? | Main | It's like insurance or data backups... »
March 24, 2005
My Son the Spam Copywriter...
I've got three kids - two boys and a girl. Ages 7, 5, and 3. My two boys share a bedroom, and last night while getting them into bed I noticed this sign on their door. I'm not sure when it was made and how long it was there, but it took me a minute to "translate" it.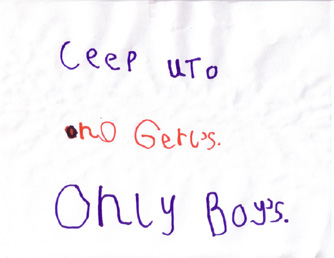 Once I read it, twice... Aha! Cute! Classic message for a bedroom door of two boys.
It reminds me of spammers attempts to only slightly obfuscate text of their messages in such a way as to avert textual spam filtering heuristics, but still be translated by a human upon reading it.
If you think about it, our minds translate simple typeos easly and quikly - sort ov on the flie. See whut I meen?
Anyway, AJ either has a career ahead of him writing copy for spammers, or he's slightly dyslexic and may have to hang back in 1st grade for a second time... :)
Posted by gcrgcr at March 24, 2005 3:18 PM
Comments
Post a comment
Thanks for signing in, . Now you can comment. (sign out)
(If you haven't left a comment here before, you may need to be approved by the site owner before your comment will appear. Until then, it won't appear on the entry. Thanks for waiting.)