« October 2004 | Main | December 2004 »
November 19, 2004
Photos Section Minor Update
Egads, I haven't posted new photos for a month. If you are not family, you may find this gallery rather uninteresting - heck maybe if you are family you still will. I grabbed a bunch of pics from August 2004 and posted them. Quickly commented as well. Best to get AJ's first day of first grade up there before he becomes a second grader...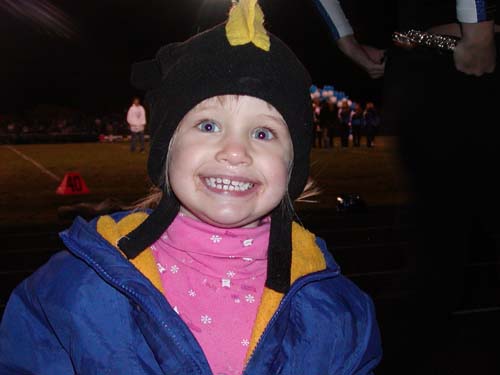 August and September 2004 - Miscellaneous - AJ and Max First Days of School
This is how shoddy I'm doing this... the pics are mostly AJ and Max and their first days back to school a few months back, but I pick a photo of Jesse for the cover of this gallery! Oh well.
Plus, I've never used the word "Egads" before. It was fun to type, and to think. Maybe if I get a chance tomorrow I'll say it in conversation - see if I get any strange stares... Well, strangER stares - than normal that is.
Yeah I know, I'm curious now too: "Dictionary.com: Egads"
Posted by gcrgcr at 12:29 AM | Comments (1) | TrackBack
November 17, 2004
Does it Gobble in the box?
I really enjoyed this blog entry "Talking Turkey" by friend Lisa Donovan regarding their endeavor to do more than purchase a supermarket turkey for Thanksgiving. An excerpt:
...Once we committed to not buying a supermarket bird, the options began to open up for even more exploration. "Organic", we found, was only the tip of the iceberg. It is possible to have an organic Broad-breasted White industrial turkey. Which, because of breeding, would probably not be the best choice from a gastronomical perspective, when you consider how they are primarily prepared for cooking (see above). This is about the time we discovered "Heritage" breeds. Heritage breeds of turkey are natural, old-fashioned varieties whose ancestors roamed the American Farm Belt centuries before anyone heard of Butterball or Jennie-O. These breeds include names like Narragansett, Jersey Buff, Standard Bronze, Royal Palm, Bourbon Red, White Midget, and the Beltsville Small White. The Narragansett is apparently the oldest turkey breed in North America. If you want to eat as the Pilgrims did, this is the closest you'll get...
Read the rest of the post for the hilarity of it all...
We've experimented in recent years with cooking methodologies of the celebratory fowl - that is to say we now enjoy dunking it in 400 degree oil and frying it to a crisp. Hey, if you're going to celebrate and take on some additional calories, you might as well go all the way right?
I hadn't thought much about the "type" of bird beyond the basic splurge at the grocery store for the "Butterball".
I wonder if a heritage turkey is somewhat "gamey" in taste, or "tough". I don't imagine the deep fryer results would vary at all.
Regardless of how you cook it, you'll have leftovers for a bit, so here are some endless recipes for the meals to come:
Barbecue Turkey Burgers
Grilled Turkey Filets with Mixed Mushroom Sauce
Turkey Pizza Quesadilla
Couscous Salad With Turkey, Apricots and Almonds
Curried Turkey Couscous Salad
Grilled Turkey Cobb Salad with Blue Cheese Buttermilk Dressing
Mozzarella Basil Stuffed Turkey Tenderloins with Smoky Tomato
Vinaigrette
Grilled Turkey with Cilantro Salsa
Caribbean Turkey
Artichoke Turkey Pizza
Barbecue Turkey Pita Sandwich
Chopped Turkey Salad with Balsamic Vinaigrette
Pumpkin Black Bean Turkey Chili
NEW! Roasted Turkey with Mushroom Herb Sauce
Turkey and Artichoke Antipasto Salad
And MUCH MUCH More... have a good turkey day - regardless of whether you put down your own turkey with a cross bow or not. Read the post - it's funny!
Posted by gcrgcr at 2:32 PM | Comments (0) | TrackBack
November 15, 2004
Turkey Trot 2004
Ran in the 30th Longmont Turkey Trot on Saturday. I had missed the year before due to a knee injury, so was happy to make it back. Would have been happier with a time in the 48 minute range, but as usual I'm pretty happy with just finishing. I run this distance or a tad more fairly regularly, but there is something exhilirating about "race day" ambiance and atmosphere.
If you aren't a runner or any type, you should try it. Most local communities have many sponsored races and include 10k, 5k, distances and 2 Mile fun runs. I think AJ may want to do a fun run as he gets older - which would be cool to do a race together. This is the site I use, Active.com. The three best features:
Outdoor event search by zip code
Easy online registration for any listed event - I use the same form / interface each time, rather than deal w/ various forms - and a lot of my general information is saved and reuseable
A weekly email newsletter personalized with upcoming events in my area for activity categories that I choose.
Race results are made available to Active.com members very soon after the race. The local paper didn't even print full results the next day. I would have no idea yet as to my finish.
Anyway, there are always the free volunteer sports massages at the finish line if nothing else!
Here are my results. I cut out all the fast people in front of me. :)
10K Run Results by Place - Longmont, CO - 10K - 11/13/2004

Place Name Hometown Ag S In Sex Div In Div Time Pace
108. Tom Bartel Longmont, CO 33 M 86th M30-39 24th 49:39 8:00

Posted by gcrgcr at 8:11 PM | Comments (0) | TrackBack
November 10, 2004
Did you ever notice?
So my Dad just called - he lives in Phoenix - and being too busy with the kids to really chat, I handed him right off to AJ, my 6 AND A HALF (he makes me say that) year old.
AJ likes to talk on the phone. He can chat like no other. It is almost 15 minutes later and I make sure to track AJ down. AJ gets to chatting and wandering with the cordless phone. You have to find him and ensure that the person on the other end of the line doesn't need to be rescued.
I find him, and settle down and listen. AJ is about 45 days into 1st grade, and I assume he is speaking about school when he says:
"Did you ever notice how Graders - y'know when you become a Grader - after kindergarten, well school - it, y'know gets harder? It's like, they expect you to know that 50 + 50 is 100... and that y'know 100 + 100 is 200... "
I'm thinking that this is a pretty sharp kid. Kind of sly I think, to demonstrate with examples, presented as difficult, but at the same time answering them away, as though they aren't so tough. Kids like to boast, especially about new found knowledge.
Yet, he continues:
"...and 200 + 200 is 300... and 300 + 300 is 400 - I mean it just gets tougher and tougher!"
Ha! So much for a Nobel prize in Mathematics. Still, his spirit and joy to me is prodigious in a way that satisfies like nothing else. The smallest moments with your kids are some of the best. Thanks AJ!
Posted by gcrgcr at 7:22 PM | Comments (0) | TrackBack
November 5, 2004
Bon Voy-Vonnage
Matt Blumberg had a great post the other day about VOIP (Voice Over IP) phone service from Vonnage.
It was great timing. I had just finished paying some "home office" bills - including the local telco - Qwest, for my POTS line for my office, AT&T for the basic Long Distance service, as well as reviewing the same for our regular home line. We easily shell out $100 - $150 total per month with moderate long distance use.
Reading Matt's post, Vonnage is a perfect solution.
Quality is solid.
Multiple numbers per account
Works with Tivo
You can keep your old phone number.
No minimums and no contracts.
No one has to come install anything.
911 and 311 service.
Voicemail
Call Waiting
Call Forwarding
Caller ID
Domestic and Long Distance in USA and Canada included
Wow. Why wouldn't you do it? As Matt said, you do need Cellular as a backup, should your Cable Modem or DSL service which carries Vonnage go down. Ours hasn't been down in 3+ years (knock on wood) so that doesn't put me off. Still, it feels strange to kill the land line.
I was already to sign up, but hit my first road block. Vonnage can not "transfer" our particular 303 area code numbers. It would be ideal to keep our numbers - still I'm so keen on trying this service, I opted to test it out with a newly assigned number. Wrong. Vonnage can not assign me a 303 number, only a 720 - the newer exchange in Colorado.
This is a bit more of a road block - most of our friends/family could deal with a new 303 number, but would probably complain about a 720 number - I don't know a single person with that area code.
So for now I'm stuck and will have to think about it. Bon Voy-Vonnage for now. If anyone knows of any alternatives to Vonnage, I may give those a try. That or if you know the CEO at Qwest who can release my 303 numbers, that'd be great too. ;)
Posted by gcrgcr at 1:48 PM | Comments (0) | TrackBack